Home of the Original Muffuletta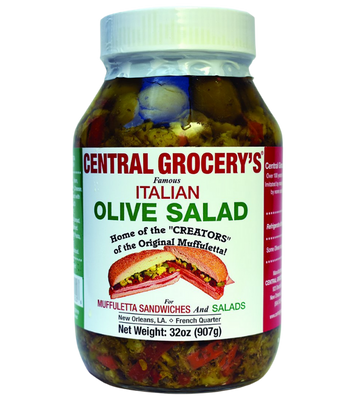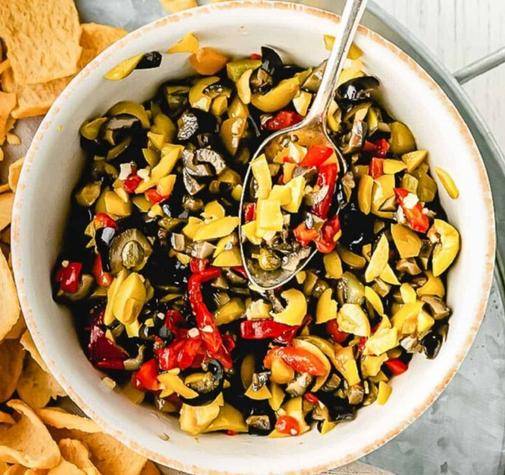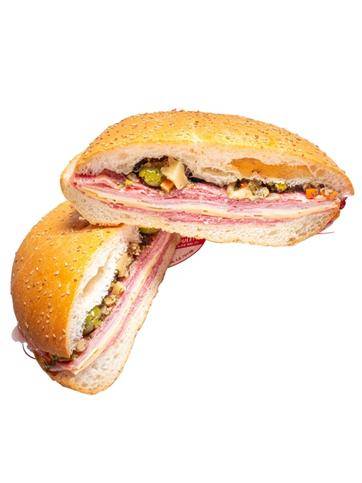 Discover the Best Italian Olive Salad - Central Grocery's 32 oz Jars!
If you are looking for the perfect Italian Olive Salad, then you have come to the right place. Central Grocery's Italian Olive Salad is the perfect blend of olives, celery, cauliflower, carrots, and peppers, marinated in a unique blend of oils, vinegar, and seasonings. In this article, we will explore the history and ingredients of Central Grocery's Italian Olive Salad and why it is a must-have for any authentic Italian meal.
Located in the heart of the French Quarter in New Orleans, Central Grocery is a century-old Italian grocery store that has become an icon in the city. Central Grocery was founded by Salvatore Lupo, an Italian immigrant who opened the store in 1906. Salvatore Lupo's vision was to bring the taste of Italy to New Orleans, and his family has carried on that tradition for over 100 years.
With its century-old tradition and authentic Italian flavors, Central Grocery's Italian Olive Salad is a true gem in the heart of the French Quarter.
great Ingredients and great enjoyment
Central Grocery's Italian Olive Salad Ingredients

The key to Central Grocery's Italian Olive Salad is its unique blend of ingredients. The salad contains a variety of Italian olives, including Calamata and Sicilian olives, that are marinated in a blend of oils, vinegar, and seasonings. The other vegetables in the salad include celery, cauliflower, carrots, and peppers. The unique blend of flavors and textures makes Central Grocery's Italian Olive Salad a favorite among food enthusiasts.
How to Enjoy Central Grocery's Italian Olive Salad

Central Grocery's Italian Olive Salad is the perfect complement to any Italian meal. It pairs perfectly with a variety of dishes, including sandwiches, pasta, and pizza. The salad can also be enjoyed as a snack or appetizer. The 32 oz jar is perfect for sharing with family and friends, making it the ideal addition to any gathering.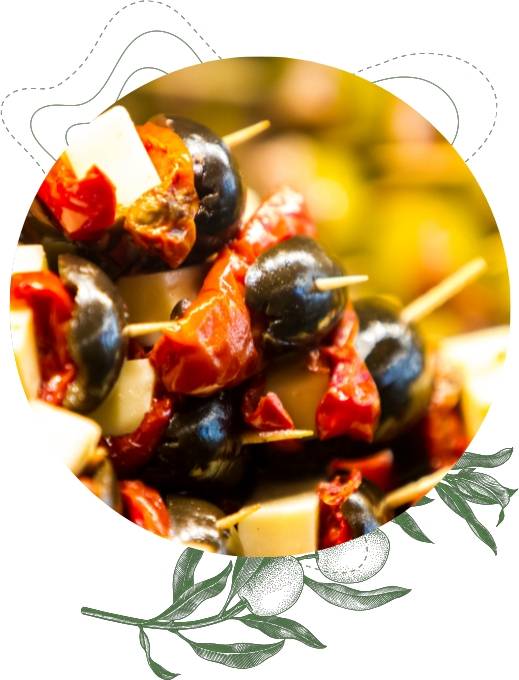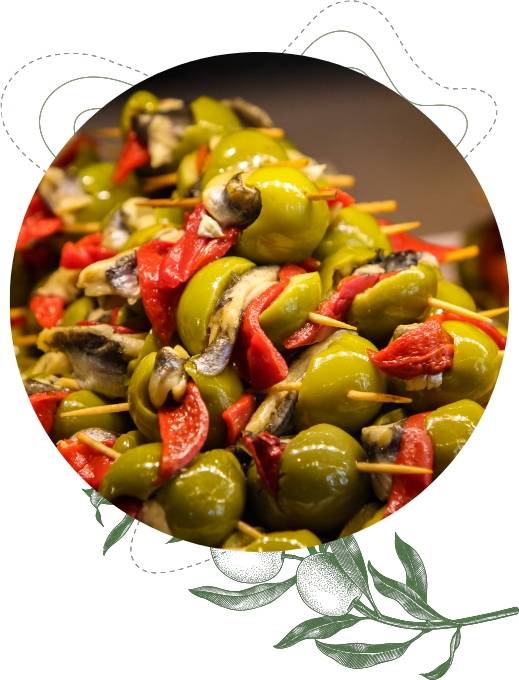 Central Grocery's Italian Olive Salad: A Delicious Salad By Itself

In addition to being the perfect complement to any Italian meal, Central Grocery's Italian Olive Salad is also a delicious salad by itself. The unique blend of vegetables and olives, marinated in a savory dressing, makes it a healthy and flavorful option for any salad lover. The salad can be enjoyed on its own, or as a side dish to a variety of entrees. Whether you are looking for a tasty snack, an appetizer, or a side dish, Central Grocery's Italian Olive Salad is the perfect choice.
Experience the Flavors of Italy with Every Bite of Central Grocery's Italian Olive Salad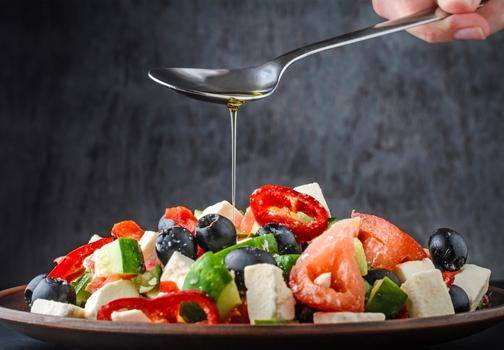 Savory Blend of Vegetables and Olives
Elevate Any Meal with the Perfect Side
Bold, versatile & authentic
spicy and tangy pickled vegetables
plump, juicy and slightly salty
for an authentic sweetness

Frequently Asked Questions About Central Grocery's Italian Olive Salad
WHAT IS IN CENTRAL GROCERY OLIVE SALAD?
Ingredients Olives with Pimentos, Oil Blend (Soybean/Extra Virgin Olive Oil), Cauliflower, Carrots, Celery, Kalamata Olives, Red Bell Peppers, Capers, Pepperoncini, Water, Vinegar, Salt, Spices, Garlic and Calcium Chloride, Potassium Sorbate, Lactic Acid, Sodium Bisulfite and Yellow 5 as Preservatives.
ARE MARINATED OLIVES A HEALTHY SNACK?

Olives are rich in vitamin E and other antioxidants, which may help reduce the risk of health conditions like cancer, diabetes, stroke, and heart disease.
WHAT IS IN A MUFFALETTA FROM CENTRAL GROCERY?

Each muffuletta sandwich is made on a 10-inch round Sicilian sesame loaf that stays crusty despite all its fillings. It's piled with ham, salami, mortadella, Swiss, Provolone, and a signature briny marinated olive salad made with olives and other tasty pickled veggies.
IS A MUFFALETTA SERVED HOT OR COLD?
The traditional muffuletta is served warm, and is big enough for two people (you can also get it in half and quarter sizes).
HOW LONG DOES MUFFALETTA SALAD LAST IN THE FRIDGE?

How long does Muffaletta Olive Salad last in the fridge? Up to 2 weeks.
WHAT KIND OF BREAD IS A MUFFALETTA MADE OF?

True muffuletta bread is a wide, round, flat loaf, covered in sesame seeds, with a soft crust and a texture somewhere between focaccia and ciabatta. It's not commonly made anywhere else in the country (or the world, as far as I know), but your next best bet is to use some good soft ciabatta or focaccia.
WHAT DOES MUFFALETTA MEAN IN ITALIAN?

The muffuletta (or muffoletta, moffoletta, muffoletto, muffulietta, depending on the dialect) derives its name from Sicilian dialect that means 'soft and spongy bread'. This soft round bun is so versatile and many locals use it as a sandwich to fill with local hams and cheeses.
WHAT GOES WELL WITH MUFFALETTA?

1 – Pickled Cucumbers.2 – Homemade Coleslaw.3 – Melted Cheese.4 – Peach Jam.5 – Honey-Glazed Vegetable Stir Fry.6 – Lentil Soup.7 – Baked Beans with Cilantro.
WHAT DOES MUFFALETTA BREAD TASTE LIKE?

Light and airy and almost fluffy, it was like a mix between focaccia and bread, with a nice crust on the outside and a gentle olive oil smell on the inside. I like to think that the muffuletta bread at Central Grocery in New Orleans and the sfincione in Palermo are long-lost cousins.
How many calories are in an olive salad?

Nutrition Facts For a Serving Size of 1 Tbsp (25g). Amount of calories 70 Calories. From Fat 54 (77.1%)
IS ITALIAN OLIVE SALAD HEALTHY?

Olives have healthy fats and combined with the vegetables the salad is healthy and light but like every healthy diet, should be eaten in moderation.
Are olives a good snack for weight loss?

Olives possess positive health benefits and also help you lose weight. According to studies in Italy, if you consume 10 olives before any meal, then your appetite will reduce by 22%, as the monounsaturated fatty acids present in them send a satiety signal to the brain.
WHAT IS OLIVE SALAD MADE OF?

Olive salad is a salad or giardiniera made from green olives, black olives, olive oil, celery, cauliflower, carrots, sweet peppers, onions, capers, parsley, pepperoncini, oregano, garlic, vinegar, herbs and spices.
DOES OLIVE SALAD NEED TO BE REFRIGERATED?

The Olive Salad is ready to enjoy right out of the jar! Once opened, keep Muffuletta Olive Salad in the fridge until the date of the printed expiration date.
IS OLIVE SALAD GOOD FOR YOU?

Olives are a good source of dietary fiber which helps you fill full. Olives are also low in cholesterol and are heavily used in Mediterranean diets. Olives are high in vitamin E, iron, copper, and antioxidants.
ARE OLIVES OK IF LEFT OUT OVERNIGHT?

Olives can be left out at room temperature for a short period of time without posing a significant risk to your health. However, it is generally not recommended to leave olives out overnight, as they can begin to spoil and potentially harbor harmful bacteria if left at room temperature for too long. It is important to refrigerate Central Grocery's Italian Olive Salad promptly after opening and consuming it, to ensure that the salad stays fresh and safe to eat.
ARE BLACK OR GREEN OLIVES HEALTHIER?

In terms of nutrition, both black and green olives contain similar amounts of calories, healthy fats, and antioxidants. However, black olives may have a slightly higher level of vitamin E, while green olives may contain more iron and fiber.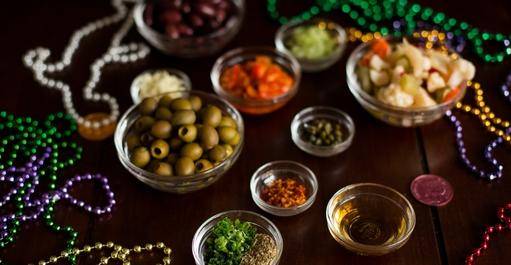 MOUTH WATERING &
FULL OF FLAVOR